The dietary supplement for healthy blood flow with all-natural ingredients: Fruitflow®, Rutin and Resveratrol.
Fruitflow® is a breakthrough anti-thrombotic ingredient extracted of the jelly around the seeds of sun-ripened tomatoes. Water-soluble tomato concentrate (WSTC) contains naturally occurring anti-platelet compounds which have been shown to suppress blood platelet activity in healthy people after consumption.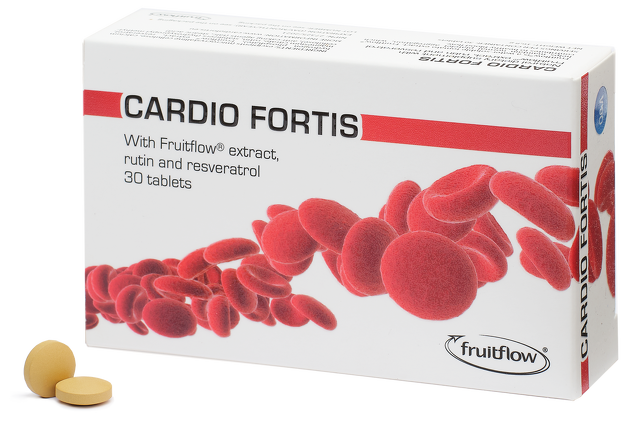 Gluten free
Lactose free
Sugar free
Vegan
GMO free
Nuts free
Your heart matters to us
Cardio Fortis is a natural dietary supplement, which contributes to healthy blood flow. It consists of 3 natural ingredients that can contribute to healthy circulation and blood vessels.
Learn more
At risk: to whom is Cardio Fortis recommended?
Are you above the age of 40?
Do you live in a smoggy, big city?
Do you lead a stressful life?
Do you do too much sedentary work?
Do you travel a lot by airoplane?
Do you do excessive sports activities?
Are you in the stage of menopause?
Are you overweight?
Do you have high cholesterol level?
Do you suffer from diabetes?
Do you suffer from chronic inflammation?
Is your blood pressure high?
Do you have atherosclerosis?
Do you have atherothrombosis?
It contains 150 mg Fruitflow®, a water soluble tomato extract produced by the Swiss company DSM Nutritional Products Ltd. Royal DSM is a global, purpose-led company in Health, Nutrition & Bioscience, applying science to improve the health of people, animals and the planet. Fruitflow® is the first ingredient with an European Food Safety Authority Art. 13.5 health claim "Helps maintain normal platelet aggregation, which contributes to healthy blood flow".
It also contains 25 mg resveratrol, another plant compound derived from red grapes that has antioxidant-like properties. It is also present in products that are made from red grapes, such as wine and juice. Resveratrol may help reduce the pressure exerted on artery walls when the heart beats, which causes blood vessels to relax. It also has a positive effect on blood fats. It reduces cholesterol levels and takes part in inhibiting plaque bildup in artery walls.
It contains 20 mg of rutin as well, a bioflavonoid, plant pigment, that is found in certain vegetables and fruits. Apples are full of rutin, but buckwheat, most citrus, figs, and both black and green tea also contain rutin. Rutin inhibits both platelet accumulation and fibrin generation during thrombus formation. This is important since clots occur in both arteries and veins. Rutin can be considered as a natural, safe and effective solution in many cardiovascular problems.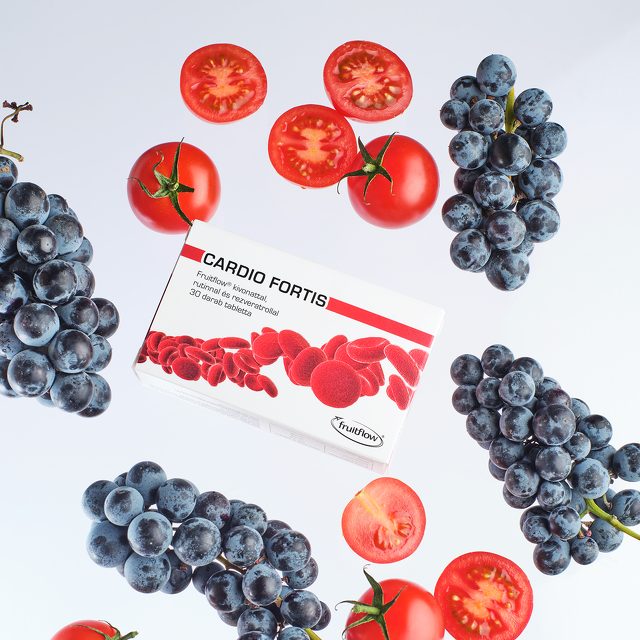 Three major factors in cardiovascular disease (CVD): high cholesterol levels, high blood pressure and platelet aggregation are the main cause of blood clots.
Unfortunatelly there are much more factors related to age, lifestyle and chronic inflammations that can induce platelet activation that may lead to blood clot formation.
The underlying platelet hyperactivity associated with conditions such as diabetes and heart disease, or found in areas of high pollution, is significant; the importance of addressing this issue has been laid bare by the consequently higher risk of thrombosis observed in COVID-19 infection.
A dietary antiplatelet such as Cardio Fortis can be considered for daily use, especially in those known to have a higher risk profile for complications during serious infection, that is, individuals who are overweight, have high blood pressure, high blood sugar levels, atherosclerosis, or over the age of 40 years.1
1. O'Kennedy, N.; Duttaroy, A.K. Platelet hyperactivity in COVID-19: Can the tomato extract Fruitflow® be used as an antiplatelet regime? Med. Hypotheses 2021, 147, 110480.
Take your health in your own hand
Order our products with home delivery or pick up your parcel at one of our GLS parcel-points!
Partners